Sack-O-Grande Acroport, located 13 miles due north of the city of Katy at 26610 Sharp Road, has been under the ownership of David Z. Mafrige for 7 years. Prior to that time it had been Harbican Airport for 25 years. Until recently it was a private airport, but changed it's status to public as of November 1, 2003. The airport sits on approximately 20 acres with a grass runway length of 3900 feet. The airport also holds waivered airspace for an aerobatic box thus being the primary practice facility for many of the aerobatic pilots in the central Texas.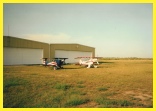 First landing at
Sack-O-Grande in 1996.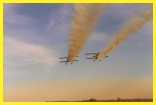 Formation Flying
over Sack-O-Grande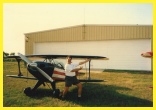 Andy "Airshow Miller"
welcomes all to
Sack-O-Grande.